Author: Christopher
My 4-year old daughter, Katherine, thinks that the SkippyJonJones books by Judy Schachner are the best books going.  Personally, I think they're a lot of fun to read, so I don't mind grabbing one to put her to bed.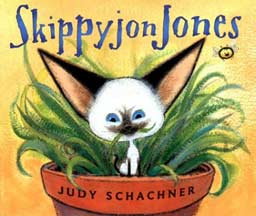 "…Using "his very best Spanish accent," SkippyJonJones began to sing, 'My ears are too beeg for my head. My head ees too beeg for my body. I am not a Siamese cat … I AM A CHIHUAHUA!'"  
How can you not love that? 
The books we have read together are:
Mummy Trouble
In the Dog House
Big Bones
The Original
I think that's all she has written so far about SkippyJonJones, but she does have other books.  You can check her out at her personal website.
The best part about reading the books with Katherine is the rhyming and clapping.  While SkippyJonJones tries to deny his true catlike nature (claiming to be a chihuahua), he sings songs that invite a little bit of audience participation.  Katherine looks so serious when we come to that part.  She wants to make sure that she is right on the beat.
Anyway, that's the news for today.
Leave a Reply